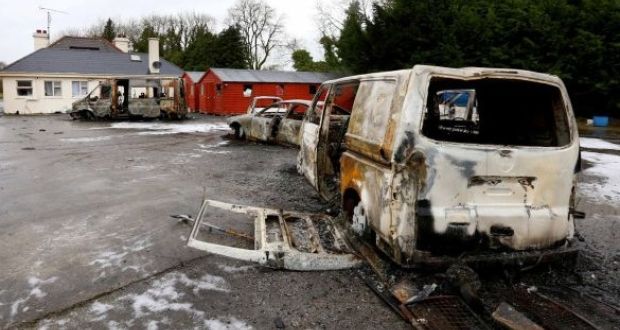 Three protestors involved in a bitter dispute in Strokestown, Roscommon between KBC Bank Ireland plc and the McGanns, the borrowers, were jailed by Justice Reynolds in the High Court in December 2020.
Background
The McGanns owned property in Strokestown, Roscommon and had borrowed money from KBC. They fell into difficulty as to repaying the money and legal proceedings were instituted by the lender.
In October 2019 the High Court ordered the defendants in this case- KBC BANK IRELAND PLC, PLAINTIFF AND MICHAEL ANTHONY MCGANN, DAVID MCGANN, GERALDINE MCGANN AND PERSONS UNKNOWN OCCUPYING PREMISES AT FALSK, STROKESTOWN, CO. ROSCOMMON-to vacate the premises. No appeal of that order was pursued by the defendants.
In October 2020 the defendants were arrested and brought before the High Court for being in breach of the previous order directing them to vacate the premises and refrain from trespassing. The defendants gave undertakings to vacate the property and remove all personal belongings within an agreed timetable, to remove livestock and animals, and to ask any persons in occupation to leave the premises.
The defendants initially complied with their undertakings, but it appeared later that by 28th October 2020 persons had occupied the property.
KBC applied in this case to have the premises vacated pursuant to the previous High Court order and sought an order for committal of the defendants.
Kevin Taylor, a friend and supporter of the McGanns, was in occupation in October 2020. Colm Granahan was also in occupation and Michael Anthony McGann made it clear through social media that he had not abandoned the property and never would.
In November 2020 these three individuals were ordered the High Court to face contempt of court charges against them by reason of their occupation of the premises in defiance of the October 2019 High Court order.
Justice Reynolds stated that it was well settled law that committal to prison for contempt of court should only be engaged in as a last resort and where it is necessary to vindicate the authority of the court. She observed that the contempt of court in this case was manifest and the defendants' misconduct amounts to a flagrant breach of the High Court order.
She observed that the three men were given the opportunity to purge their contempt but had refused to do so. In these circumstances a court has the power to jail the person for an indefinite period of time.
Accordingly, Justice Reynolds jailed the three men for an indefinite period of time until they had purged their contempt as the court was mindful of its obligation to ensure orders of the Court are complied with which is an essential aspect of the rule of law.
She adjourned the case until 22nd January 2021 but made it clear that it was open to the parties to come back before the Court and purge their contempt before then and to give the appropriate undertaking not to trespass or interfere with the bank or its agents.