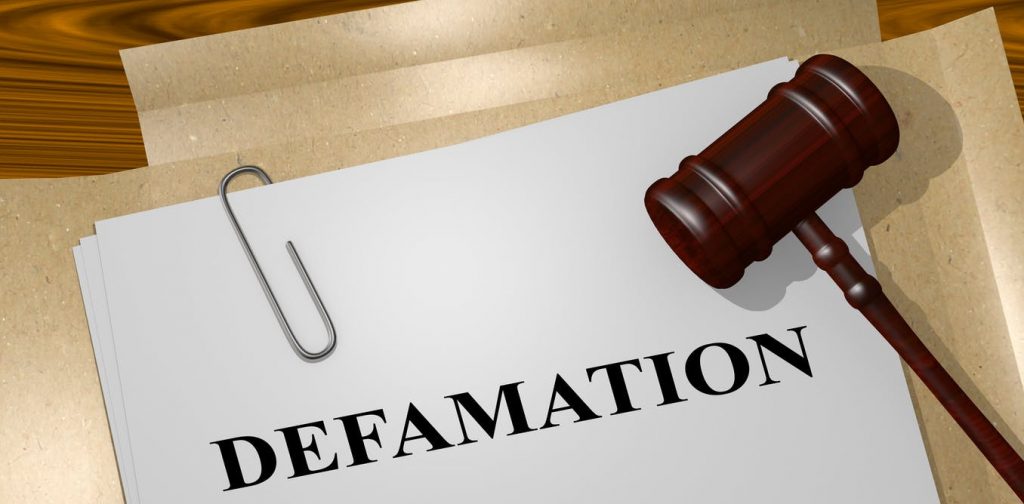 Everyone is entitled to their good name and reputation. Our constitution, Bunreacht na hEireann, recognises this in article 40.3.2. And our statute books recognises this right, too.
For defamation is now a statutory tort-that is a civil wrong. It is defined in section 6, Defamation Act, 2009 as
2) The tort of defamation consists of the publication, by any means, of a defamatory statement concerning a person to one or more than one person (other than the first-mentioned person), and " defamation " shall be construed accordingly.
It is worth noting that defamation is now actionable per se, even in circumstances where there is no proof of special damage. Section 12 of the act also allows a body corporate to bring a defamation action.
Defamatory statement
A defamatory statement is defined in section 2, Defamation Act, 2009 as
" defamatory statement" means a statement that tends to injure a person's reputation in the eyes of reasonable members of society, and "defamatory" shall be construed accordingly;
This statement can be written or oral, therefore a false, oral accusation in a shop of, for example shoplifting or failing to pay for goods, can be defamatory.
Publication can also take place in the traditional written media such as newspapers and magazines but an increasing number of defamation actions are arising from social media websites such as Twitter, Facebook, etc.
We have all seen a raft of debates and exchanges on social media sites which have become extremely heated, often culminating in defamatory statements being published for the whole world to see.
Early in 2017 a Donegal couple were awarded €30,000 in a defamation action they brought against their neighbour arising from false, defamatory postings made by the neighbour on Facebook. The neighbour had admitted the wrongdoing and apologised to the couple.
Statute of Limitations
Section 38 of the act provides that you must bring your defamation action within one year, although this can be extended to two years in exceptional circumstances.
At its simplest defamation will occur where a defamatory statement is made to a third party.
A defamation action is
"defamation action" means—
(a) an action for damages for defamation, or
(b) an application for a declaratory order,
whether or not a claim for other relief under this Act is made
Section 8 of the act obliges the parties to a defamation action to swear a verifying affidavit, similar to an affidavit of verification in a personal injuries action, swearing as to the truth of pleadings and assertions or allegations of facts.
Defences to a defamation action
There are statutory defences to a defamation action as follows:
Section 22 provides a statutory offer to make amends and the effect of the offer to make amends is set out in section 23.
Section 24 provides for a statutory apology scheme which will mitigate a defendant's damage. Such an apology is not an admission of liability and evidence of the apology is not admissible in any civil action as evidence of liability of the defendant.
Remedies for defamation
Section 28 of the Defamation Act, 2009 provides for a declaratory order from the Circuit Court. This order will state that the statement was defamatory of the applicant.
Damages are also a remedy, as set out in section 31 of the act and a correction order can be made by the Courts, pursuant to section 30, and a prohibitory order pursuant to section 33. Section 32 allows a Court to order the defendant to pay aggravated and punitive damages where (b) the defendant conducted his or her defence in a manner that aggravated the injury caused to the plaintiff's reputation by the defamatory statement.
Section 29 allows a defendant to pay a sum of money into Court in satisfaction of the defamation action.
Constitutional right to good name
Article 40.3.2 of Bunreacht na hEireann states:
The State shall, in particular, by its laws protect as best it may from unjust attack and, in the case of injustice done, vindicate the life, person, good name, and property rights of every citizen.
A defamation action will also include a claim damages for breach of the Plaintiff's constitutional right to maintain his/her good name.
Defamation proceedings
Defamation proceedings are commenced in the High Court by way of a Plenary Summons and Statement of Claim.
What to do if you think you have been defamed
If you think you have been defamed you should consider getting professional advice. It is easy, in the heat of an argument online, to form the view that you have been defamed but whether you have or not is something you should get professional advice on.
Your good name and reputation is a fundamental personal right recognised in the Irish Constitution and any defamatory remarks that go unchallenged may lead to significant damage to you in both a personal and business capacity.
Depending on the context of the defamatory remarks you may also have other causes of action against anyone who makes such remarks against you, for example breach of contract, negligence, breach of duty.