Employers: How to Avoid Costly Employment Claims By Employees
These Principles Will Almost Certainly Save You Time and Money
By Terry Gorry B.Comm, Solicitor
Do you worry about expensive employment related claims against you? Or a NERA inspection?
Could you afford the money and time to fight claims or even pay out a substantial award?
I have helped many employers avoid costly claims by employees. And this experience has taught me certain principles.
If you observe these principles you will decrease the chances of successful claims against you. Here are some of the things I have learned to get the best results for employers, big and small.
1. Give your employees contracts of employment
You are legally obliged to give your employees a statement of the terms of employment within 2 months of starting.
Many employers who come to me haven't done so.
This is a huge mistake. The penalty for failing to provide this statement is compensation to the employee of up to 4 weeks remuneration.
But there are bigger problems with no contracts in place. Defending claims of unfair dismissal or constructive dismissal is incredibly difficult.
Also, I have also found that some of the contracts are very poorly drafted, and could even leave the employer wide open to claims.
This occurs for 2 reasons:
a copy and paste template found somewhere on the internet was used or
somebody with no legal expertise supplied it.
The relationship between employer and employee is founded on contract. This is why the drafting of the employment contract is critical.
It is only when there is a dispute between you and your employee that you will take a close look at your contract.
And by then it may be too late because the damage may already be done with a sloppily drafted contract.
This is a mistake that is easily avoided.
I personally draft all  contracts of employment for you.
I also draft contracts for the sale of property, asset purchase agreements, partnership agreements, shareholder agreements, pleadings in Court litigation, etc.
 2. 80% of unfair dismissal cases are lost by employers due to a lack of procedural fairness
Did you know that the majority of unfair dismissal claims are lost by employers because they failed to follow fair procedures in the dismissal.
Not because of the reason for the dismissal.
We have also found that many small employers don't have the most important policies and procedures in place.
Policies to deal with disciplinary issues and grievances. Policies to prevent bullying, harassment, sexual harassment.
Policies to prevent discrimination and encourage equal treatment.
Not having these policies makes it very difficult to defend the employer when a claim is lodged.
I have provided these types of policies to many employers.
Their success rate in defending claims is greatly  increased.
3. Employers are spending too much time on human relations/employment law issues
I have found that many Irish employers find themselves spending  too much time dealing with HR/employment problems.
Problems such as..
Trying to figure out holiday entitlements
How to deal with disciplinary issues
Sick leave entitlements
Parental leave
Maternity leave
TUPE
Retirement age
Discrimination in the workplace
Dismissing an employee on probation
Contracts of indefinite duration
Fixed term and part time employees' entitlements
Sickness related dismissals
Force majeure leave
NERA inspections
Reducing wages/reducing hours
Changing the contract of employment
Payment of wages and deductions
Lay off of staff
Termination of contracts
Workplace stress
Sexual harassment
Notice periods
Working time and breaks
Unfair dismissal
Constructive dismissal
Redundancy
Bullying in the workplace
Grievance procedures
Health and safety
I save you time and hassle, and give you peace of mind, with this because I provide a phone/email hotline to help you with these questions.
4. Compensation amounts have increased in employment cases
Did you know that the amount of compensation being paid out to employees has increased significantly in the last few years?
For example, the average award increased from €11,500 in 2008 to €16,000 in 2010 to €18,047 in 2011 (source: Employment Appeals Tribunal Annual Reports).
But this does not take account of employees appealing the size of their award to the Courts.
For example in January, 2013, an employee who was awarded €8,000 by the EAT against POD Entertainment Limited had this award increased to €40,000 by the Circuit Civil Court in Dublin.
In August, 2013 the Equality Tribunal awarded €70,000 to a medical secretary against HSE West for failing to make reasonable accommodation for a medical problem suffered by the employee.
In July, 2013 an employee won a case for unfair dismissal and was awarded €30,000 on the grounds of unfair selection for redundancy against Oxygen Environmental.
In July, 2013 an award of €123,000 was made against Optical Express (Southern) Limited for its failure to turn up in a constructive dismissal claim.
Avoiding expensive payouts like these is not as difficult as you might think.
But the steps you need to take must be taken long before you are dragged into a Rights Commissioner or Employment Appeals Tribunal hearing.
5. Give your employees their legal entitlements
The easiest and quickest way to prevent claims is to give your employees their legal entitlements.
This can be a problem for employers.
Not because they don't want to but because they are not sure what those entitlements are in many situations.
It's my job to know what these legal rights are, so that you can then focus on your business.
6. What worries employers most
I have found that employers are most worried about, in no particular order,
unfair dismissal/constructive dismissal claims
Equality Tribunal claims for bullying, harassment, sexual harassment, discrimination
NERA inspections
claims in the Civil Courts for wrongful dismissal
not knowing what their obligations are.
7. Copy and paste HR/employment Services
I have found many suppliers-some excellent, some not so good- of template contracts, staff handbooks and other documentation.
And the price of these products appears, at first sight, to be cheap.
But the costs involved in the long term in using copy and paste templates and taking advice from non professionals can far outweigh any short term savings.
Because if things go wrong due to a badly drafted contract, where do you turn?
Employment law is complex. There is a huge body of employment and equality law, regulations, statutory instruments, etc. in Ireland.
Not to mention statute, the Constitution, EU directives, common law, case law, etc.
Terry Gorry & Co. Solicitors are members of the Law Society of Ireland.
Naturally we carry professional indemnity insurance.
And I have been an employer in Ireland for over 25 years so I have a pretty  good idea of the the day to day pressures on employers.
My employment law/HR service aims to
1. give you peace of mind by reducing risks of costly claims against  you as an employer
2. save you time and work and allow you to concentrate on your business
3. save money by ensuring your are not spending scarce resources defending claims which could have been easily avoided with a few simple steps
4. save money by avoiding penalties for breaches of employment legislation and ensure compliance with employment law in Ireland
5.  ensure you have nothing to worry about from  NERA inspections.

+++++++++++++++++++++++++++++++++++++++++++++++++++++
Employment Contracts, Staff Handbooks, and More
I provide a wide range of services including…
contracts of employment-review of existing contracts and drafting of new contracts
a 24 hour, 7 day a week advice service by email or phone to deal with any queries you have
all the procedures and policies you will need in the workplace
staff handbooks
advice about equality and discrimination in the workplace
advice about harassment, bullying, sexual harassment, stress
legal representation in the Courts, at the Employment Appeals Tribunal, at the Labour Court, Equality Tribunal,and Rights Commissioner Service
advice about applications for employment
advice on grievance and disciplinary issues
advice on health and safety
advice about advertising positions
preparation for nera inspections
advice about redundancy policy
transfer of undertakings (TUPE)
and more.
Only a Few Employees?
You may not need all we have to offer.
You may only have a few employees.
That's fine.
Because you can pick and choose what is right for you. You decide.
We don't believe in "one size fits all" approach.
Because we know that every workplace is different.
My Guarantee
My service can't guarantee that an employee won't bring a claim against you.
And I can't guarantee a successful defence against such a claim.
But I can guarantee that my experience as an employer since 1986 in Ireland, and my professional training will greatly increase your chances of a successful defence/settlement of the claim.
And, most importantly, reduce the chances of a claim to begin with.
Professional, Painless, Cost Effective Solution to HR Issues
My aim is to take the hassle out of employment law and human resources management for you, no matter what size you are.
To sum up, my employment law service offers
1. peace of mind for you
2. compliance with employment law in Ireland
3. more time for you to spend on more productive tasks
4. a 24/7 advice service by email and phone
5. less hassle in dealing with HR/employment related issues
6. professional employment law/HR at an affordable price
7. protection against costly claims.
Contact me personally
Call me now on  046/95 49 614 or Email Terry to reduce your chances of expensive employment related claims.
Or just to see how we can help you.
Terry Gorry & Co. Solicitors, Innfield House, Main Street, Enfield, Co. Meath.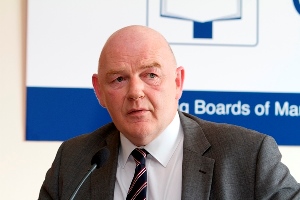 Terry Gorry B.Comm, Solicitor
Back to Employment Rights Ireland