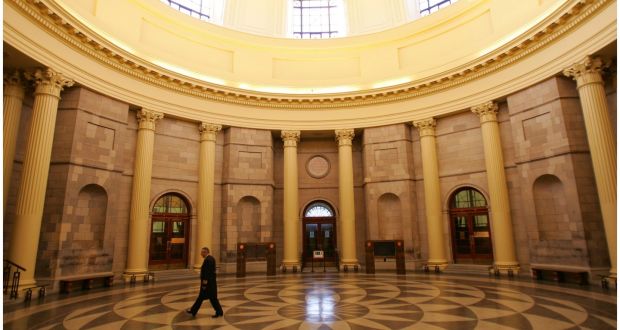 The High Court in a 2020 decision, Sheehan v Bus Eireann/Irish Bus & Anor ([2020] IEHC 160), has awarded damages to a lady who came upon an accident and suffered post traumatic stress as a consequence of her actions in trying to assist.
The test for psychological/psychiatric injury cases, also known as 'nervous shock', in Ireland has been set out by the Supreme Court in Kelly v Hennessy ([1995] 3 IR 253)
Shortly stated, they are:

(i) that the plaintiff suffered a recognisable psychiatric illness;

(ii) that the psychiatric illness was shock induced;

(iii) that the shock (and, hence, the consequent psychiatric illness) were caused by the

negligence of the defendant;

(iv) that the shock was sustained by reason of actual or apprehended physical injury to

the plaintiff or another person; and

(v) that the defendant owed the plaintiff a duty of care not to cause the plaintiff a

reasonably foreseeable injury in the form of psychiatric illness.

In this case the question the Court had to address was number (v) above-that is, did the Defendants owe a duty of care to Ms Sheehan and their defence was that they did not.
Background
Ms Sheehan came upon a road traffic accident in Cork in 2017. Ms Sheehan did not see the accident occur but she got out to investigate when some debris hit her car.
When she investigated she got a tremendous shock but managed to phone the emergency services and looked for any other survivors of the accident.
She later developed a depressive adjustment reaction and post traumatic stress disorder which led to this claim for damages.
The defence put forward by both defendants was that no duty of care was owed to Ms Sheehan for two reasons:
She was merely a secondary victim of the accident and, as a matter of public policy, and could not establish a duty of care by the defendants, including the deceased driver
The driver of the car was a primary victim of self inflicted injuries and did not owe any duty to a secondary duty who suffered a psychiatric injury as a result
The defence accepted that Ms Sheehan had suffered a significant psychiatric injury and the prognosis for her recovery remained guarded and could take some further time.
This defence pointed up an interesting legal distinction between these types of cases in the United Kingdom, and a categorisation of victims as primary and secondary, and the approach taken in Ireland.
Did the defendants owe a duty of care to Ms Sheehan?
The High court referred to the Glencar Exploration case as follows:
 The most recent authoritative statement of the test for the existence of a duty of care isthat of Keane CJ in Glencar Exploration plc v Mayo County Council (No. 2) [2002] 1 IR 84
(at 139):
'There is, in my view, no reason why courts determining whether a duty of care arises should consider themselves obliged to hold that it does in every case where injury or damage to property was reasonably foreseeable and the notoriously difficult and elusive test of "proximity" or "neighbourhood" can be said to have been met, unless very powerful public policy considerations dictate otherwise. It seems to me that no injustice will be done if they are required to take the further step of considering whether, in all the circumstances, it is just and reasonable that the law should impose a duty of a given scope on the defendant for the benefit of the plaintiff, as held by Costello J. at first instance in Ward v. McMaster [1985] IR. 29, by Brennan J. in Sutherland Shire Council v. Heyman (1985) 157 CLR 424 and by the House of Lords in Caparo Industries plc. v. Dickman [1990] 2 AC 605. As Brennan J. pointed out, there is a significant risk that any other approach will result in what he called a "massive extension of a prima facie duty of care restrained only by undefinable considerations …"
Regarding the defence arguments, the first one being that she was merely a secondary victim the High Court held:
Having considered these authorities, I conclude as follows. First, the test for liability for negligently inflicted psychiatric injury is that set out by Hamilton CJ in Kelly. The test for the existence of a duty of care, the fifth requirement of the test in Kelly, is that articulated by Keane CJ in Glencar Exploration plc. A rigid primary/secondary victim distinction, entailing an inflexible adherence to the Alcock control mechanisms, has no role to play in the application of either. To paraphrase the words of McCarthy J in Irish Shell Ltd v Elm Motors Ltd [1984] IR 200 (at 227), whilst the judgments in cases decided in the English Courts at all levels will, on a great many occasions, provide convenient and, indeed, convincing statements of principle and attractive arguments in favour of such principles, they do no more than that.
And the High Court went on to say,
Because Ms Sheehan did not actually see the car collide with the bus in the dark and because, in that context, Ms Sheehan herself described 'coming upon' the scene of the collision when she got out of her own car, the defendants urge me to conclude that she was not a 'primary victim' of the accident. For the reasons I have already given, I do not think that anything turns on the point. But lest I am mistaken in that regard, I propose to address it. Ms Sheehan's car was directly struck by debris from the collision and she brought her vehicle to a stop on a dark country road for no other reason than that she perceived something disturbing or alarming had occurred in the immediate vicinity. As a motorist within the radius of flying debris from the collision, I am satisfied that she was in the area of risk of foreseeable physical injury and, as a motorist whose vehicle was struck by flying debris, I am satisfied that she was a participant in the accident, albeit one on the periphery of it. Applying the definition of 'primary victim' so construed, I would conclude that Ms Sheehan was a primary, rather than secondary, victim of the accident, were it necessary to consider and apply that distinction for the purpose of the law on liability for negligently inflicted psychiatric injury – although I do not accept that it is
Thus, were it necessary to do so, I would reject the argument that, for Ms Sheehan to succeed in her claim as a rescuer, there is a threshold requirement that she objectively exposed herself to danger or reasonably believed that she was doing so, or – differently put – that it is necessary for her to establish that she came within the range of foreseeable physical injury in giving assistance at the scene of the accident. But it is not necessary for me to decide the point in the circumstances of the present case because, as  I have already indicated, I am satisfied that Ms Sheehan did expose herself to danger in providing assistance at the scene of the crash on the dark roadway and that she came within the range of foreseeable physical injury in doing so. As Douglas Brown J accepted in Cullin v London Fire & Civil Defence Authority (1999) PIQR 314, in most instances the danger to a rescuer will not be the same as the one that caused the accident or disaster that precipitated the rescue.
The second defence argument was
The defendants' second argument is that Ms Sheehan's claim must fail because, as a matter of policy, there is no liability in negligence where the primary victim was the negligent defendant and the shock to the plaintiff arose from witnessing the defendant's self-inflicted injury.
Thus, I reject the argument that the duty of care to Ms Sheehan in this case is negated simply because the primary victim, whose self-inflicted injuries caused the shock that led to Ms Sheehan's psychiatric injury, is a deceased person represented by one of the defendants.
I find that the deceased driver in this case, represented by FBD, did owe Ms Sheehan a duty of care not to cause her a reasonably foreseeable injury in the form of psychiatric illness. I can identify no consideration of public policy that dictates otherwise. Further, I conclude that it is just and reasonable that the law should impose that duty on FBD for the benefit of Ms Sheehan. There is no dispute that Ms Sheehan's satisfies each of the other elements of the test to establish the defendants' liability to her in negligence. Thus, it follows that Ms Sheehan is entitled to recover damages from FBD to compensate her for the psychiatric injury she has sustained.
Because of her experience on 28 January 2017, Ms Sheehan developed a moderately severe post-traumatic stress disorder ('PTSD'), consequent upon an acute stress reaction.
She was out of work for an initial period of five weeks and, intermittently, for short periods thereafter, before leaving her job as a hairdresser in February 2019 on the basis that she felt unable to continue. Her condition has placed great strain on her family relationships, including her intimate relationship with her husband. She continues to undergo therapy and counselling, and to take a range of medications. When assessed in September 2019, she had still not yet recovered and the prognosis remained guarded.
Her own consultant psychiatrist is hopeful that, in time, she will make a full recovery, subject to a twenty-five percent chance of further anxiety, depression or stress-related conditions in the future.
81. I assess Ms Sheehan's general damages in the sum of €65,000 to date and €20,000 into the future, making a total of €85,000. Special damages are agreed in the sum of €2,238.
The total award is, therefore, €87,238.
Mr Justice David Keane provides an excellent analysis of the development of the law in Ireland and the UK regarding negligently inflicted psychiatric injury. If you have an interest in law and the law of negligence this decision is well worth a read.
You can read the full decision in Lisa Sheehan and Bus Eireann and Vincent Dower [2020] IEHC 160 here.