The Supreme Court has today (9th May, 2013) ruled that REAs (registered employment agreements) are unconstitutional.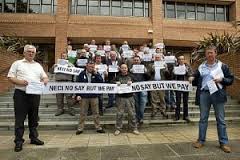 These agreements are provided for under the Industrial Relations Act, 1946.
This case had previously been in the High Court where J. Hedigan dismissed the application..
The applicants are electrical contractors who in various ways, set out in these proceedings, seek to challenge a Registered Employment Agreement ("REA") on grounds of invalidity ab initio and for unconstitutionality.
Read the full High Court decision here. NOTE: this is the June, 2011 decision of the High Court.
The full decision of the Supreme Court of 9th May, 2013 will be analysed here once made available.
A recommended resource for employers and employees to learn more about employment law in Ireland is http://EmploymentRightsIreland.com.