Books by Terry Gorry
Employment Law in Ireland: A Guide in Plain English for Employers and Employees
If you are an employer it can save you the expense of defending and perhaps losing a costly claim by an employee.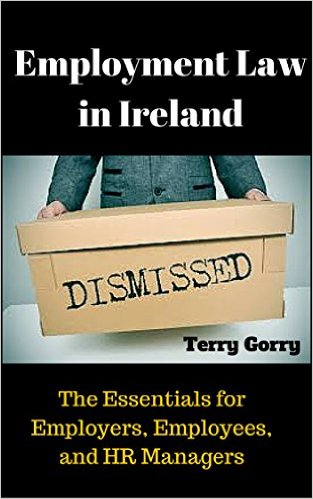 If you are an employee it can help you obtain your employment rights and eliminate the stress of not knowing where you stand.
Because it explains what your obligations are as an employer, and what your rights are as an employee.
Download your copy from Amazon here.
Don't have a Kindle? You can read Kindle books on your PC, Mac, tablet, or smartphone.
Download the free Kindle reading app for PC, Mac, iPad, smartphone or tablet.
Now available in paperback and audiobook: click here
Audiobook available
Employment law in Ireland is now available in audiobook format on Audible.
 31 Irish Employment Law Cases: Priceless Lessons for Employers and Employees from Decided Cases of the EAT, Equality Tribunal, and High Court
Are you an employer who's worried about employment related claims from employees?
Or an employee who's not sure whether you have a reasonable chance of succeeding with a claim?
Are you confused about what constitutes gross misconduct?
Are you clear on how to ensure fair selection for redundancy, and what the EAT will look at if there is an unfair dismissal claim?
Do you know what questions the High Court looks at when deciding whether you have suffered a personal injury as a result of workplace stress and/or bullying?
Are you aware of the tests the EAT apply when deciding a constructive dismissal claim?
Do you realise the significance of the difference between being an employee and an independent contractor? And how the Court will decide?
Did you know that a settlement agreement may not be as "full and final" as you thought?
Employment law in Ireland is complex
Employment law in Ireland is a huge, complex subject. It's made up of common law, statute, regulations, EU directives, custom and practice, etc.
It's perfectly understandable why you could not keep on top of it all. Especially if you are running a business, or working in a busy job.
That's why this book will help.
Because it looks at actual decided cases, from 2010 to 2014, from the bodies who decide the winners and losers of employment cases: the Employment Appeals Tribunal (EAT), the Equality Authority, and the Courts (the High Court).
27 Real Cases
I take a look at 27 actual cases-17 from the EAT, 2 from the Equality Tribunal, and 3 from the High Court-and look at the lessons to be learned from them. I also provide a link to the original full decision of 24 of them. (I updated in December 2018 to include 4 new cases).
The cases cover a wide range of topics, and involve real people in real workplace situations.
Cases like
the 'Stale Chicken Wrap' case
the 'Missing Jam Tarts' case
the case of the public transport employee who spat at a customer who was abusing her
the Special Needs Assistant in a Kildare primary school awarded over €250,000 in the High Court for bullying/personal injuries
the fast food restaurant manager who 'forgot to pay for his food',
the security guard at a shopping centre fired for taking money from shopping centre parking pay stations
and more.
So, this book is not a dry statement of what the law states.
No, it takes the decisions from the actual decision makers and sees what they have to say about their decisions, how they arrived at those decisions, and the lessons you can learn from them.
Written by a practicing solicitor
It's written by a practicing solicitor who has been an employer in Ireland since 1986 in a variety of industries.
By the end of this book, you will have a clear idea of what you can, and cannot, do as an employer. You will learn how to deal with employees on long term sick leave, and the best way to terminate those contracts on the grounds of incapacity.
Because I take a look at how the Equality Tribunal views such situations, and what the employer needs to do before he terminates.
Are you an employee?
And if you are an employee, you will
know what is, and isn't, acceptable in the workplace,
get a good idea of the types of awards made for unfair dismissal, and personal injuries caused by bullying,
what a court will look for when you bring a claim for personal injuries arising from workplace bullying,
the tests applied by the Employment Appeals Tribunal in constructive dismissal cases,
how the EAT views the new legislation protecting temporary agency workers,
and more.
Buying a House in Ireland: A Step by Step Guide by a Builder/Solicitor
Here are some of the things you will learn:
Why the author is the only solicitor in Ireland with a teleporter licence, and how you benefit.
Getting started-finding the right property and how to avoid a bad one
Where to find your property, and the problem with repossessed properties
What to be wary of at auction
How to deal with the auctioneer and negotiate the best price
The problem with buying with a friend
Rent or buy?
How to use the internet for research and where to find the actual purchase prices of property in Ireland
Mortgages, and the new Central Bank regulations in relation to deposits
The types of mortgage and the difference between a mortgage and charge
Self build houses and stage payment mortgages-how they work in practice
The fees to expect in buying your house
What you need to know about planning issues and your new home
The critical importance of a structural survey, and why it may save you a fortune
The problem with pyrite-and how to easily avoid it
What your surveyor needs to look out for
Critical questions about planning permission, building regulations, and compliance certificates
What is conveyancing and what are the stages in a conveyance?
The 2 types of registration of property ownership in Ireland
The significance of a "family home" and what is a family home?
The different types of ownership and why you need to be crystal clear about the difference
The practical effect of "caveat emptor" when buying a house in Ireland
Why buying an apartment is different from buying a house
Why buying a new property is different from second hand property
The most important thing that you as a buyer must do before signing the contract
What the vendor's solicitor does
What the purchaser's solicitor does
The most important thing a purchaser should do before agreeing to buy
Can a solicitor act for both parties?
A comprehensive checklist for vendors
A comprehensive checklist for purchasers
What is marketable title and why it is so important
What is the certificate of title system and why it is important for your protection
Bonus chapter: selling your house, how to generate kerb appeal, and get the best price for your house
Don't have a Kindle? You can read Kindle books on your PC, Mac, tablet, or smartphone.Download the free Kindle reading app for PC, Mac, iPad, smartphone or tablet
Audiobook available: Buying a house in Ireland is now available on Audible.
Annual Leave and Public Holiday Entitlements in Ireland: How to Calculate Holiday and Public Holiday Entitlements and Pay [Kindle Edition]
Do you know that an employee can be awarded up to 2 years salary for a breach of the Organisation of Working Time act, 1997 and failure to pay holiday pay?
This book explains in plain English what holidays, holiday pay, public holidays, and public holiday pay employees in Ireland are entitled to.
It's a short book, but contains the essential information for both employers and employees.
If you are an employer, it could save you a lot of money.
If you are an employee, it can ensure that you get your entitlements and are not ripped off.
And the price is pretty small too.
There are 6 sections
1. Background
2. The entitlement to annual leave
3. How to calculate holiday pay
4. Public holidays
5. Record keeping for holidays and public holidays
6. Complaints about holidays and public holidays:
There are links to the relevant legislation including the statutory instruments, and there are worked examples of fictitious employees and their holiday pay.
Buy Annual Leave and Public Holiday Entitlements in Ireland on Amazon.
The Art of Marketing Your Services Business Online: How to Get New Clients With a Proven, Inexpensive 5 Part Digital Marketing
Buy on Amazon: click here.
Learn more about this book here.
How to Carry Out a Workplace Disciplinary Procedure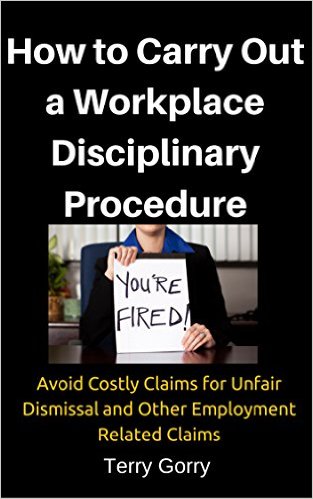 Please note: you do not need a Kindle device to read these books.
You can read them on your ipad or personal computer or laptop with the free Amazon app. (Download the free Kindle reading app for PC, Mac, iPad, smartphone or tablet.)